Grand Prix Formula 1 Monaco
The Automobile Club of Monaco (ACM) was set up in 1925 following to a Generally Assembly attended by 55 members of the SVAM, the Monegasque Bicycle and Automobile Sports Club, which was created in 1890 under the name Monegasque Bicycle Sports Club. It had been renamed in 1907 due to the fact that the importance of motor vehicles had become stronger and stronger.


The Commissioner General, Anthony Noghés was appointed to present the application of the Automobile Club of Monaco for joining the Association of Certified Automobile Clubs in Paris, currently known as FIA (Fédération Internationale de l'Automobile). The application was refused because none of the organized events took place on Monegasque territory.

Nogés committed himself to the crazy project of setting up a race circuit in Monaco and attending the race. With the support of Louis Chiron, the members of the Club as well as the Prince, as Honorary President of the Automobile Club of Monaco, Noghés implemented the event. On April 14th, 1929, Prince Pierre inaugurated the circuit of the 1st Grand Prix of Monaco with a lap of honour in a Torpedo Voisin car driven by the director of the circuit, Charles Faroux.

The young Monegasque driver Louis Chiron was absent as he participated in the500 Miles of Indianapolis.

"Williams" won the Grand Prix in a Bugatti 35 B car in 3h56'11' with an average speed of 80.194 km/h. The race was a genuine triumph.

On April 19th, 1932, Captain Sir Malcom Campbell, the man who just had broken the world speed record with 408.621 km per hour, opened the 2nd Grand Prix of Monaco in a superb Torpedo Rolls Royce.

From 1938 to 1947, the Grand Prix did not take place because of economic reasons, a lack of participants and a period which was not appropriate. On May 16th, 1948, the competition started again, but the year after the race was cancelled due to the death of Prince Louis II.

Juan Manuel Fangio was the winner of the 11th edition on May 21st, 1950. Then, a race was organized in 1952, but after, various cancellations took place. Since May 1st, 1955, the Grand Prix of Monaco is one of the most expected moments in the Formula One Championship.
Program of Monaco GP 2024
Thursday 23 may 2024
:Track closed
:Formula 3 - Practice session + Start practice
:Formula 2 - Practice session + Start practice
:Porsche Mobil 1 Supercup - Practice session
:Track open
Friday 24 may 2024
:Track closed
:Formula 3 (Group A) - Qualifying session
:Formula 3 (Group B) - Qualifying session
13:30 -14:30:Formula 1 - Free practice 1
:Formula 2 (Group A) - Qualifying session
:Formula 2 (Group B) - Qualifying session
17:00 -18:00:Formula 1 - Free practice 2
:Porsche Mobil 1 Supercup - Qualifying session
:Track open
Saturday 25 may 2024
:Track closed
:Formula 3 - Sprint Race (23 laps or 40 mn + 1 lap)
12:30 -13:30:Formula 1 - Free practice 3
:Formula 2 - Sprint Race (30 laps or 45mn + 1 lap)
16:00 -17:00:Formula 1 - Qualifying session (Q1-Q2-Q3)
:Track open
Sunday 26 may 2024
:Track closed
:Formule 3 - Course (27 tours ou 45 mn + 1 tour)
:Formula 2 - Feature Race (42 laps or 60mn + 1 lap)
:Porsche Mobil 1 Supercup - Race (17 laps or 30mn max.)
12:50 -13:20:Formula 1 - Drivers' Parade
13:40 -13:50:Honour Lap - H.S.H. the Prince and the Princess of Monaco
14:10 -14:20:Formula 1 - Pit lane opent
14:46:National Anthem
15:00:Formula 1 - 81st F1 Grand Prix de Monaco (78 laps or 120mn max.)
:Track open
Program subject to modifications for which we cannot be held responsible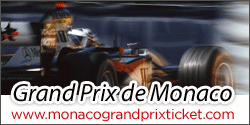 Sign up to our newsletter
---