El puerto Hercule en Mónaco
A short History
By 1901, Prince Albert 1st had already marked his reign with the realisation of a number of important projects, the Oceanographic Museum, a hospital, a modern sanitation system etc, when it became apparent that the Principality needed a harbour, able to accommodate the large number of yachts that visited the Côte d'Azur and to help open up the commerce of the area.
The construction of a port would complete the modernisation of the Principality and would at the same time be an important new source of prosperity. In order to maximize the space available, it was decided to build two quays, which still serve as the main walles of the harbour today. The work started on the 2nd July 1901.
The rock needed for the construction of the quays was taken from an area next to the sea, to the east of Cap Ferrat in the Bay of Lilong, five miles to the West of Monaco. The project was completed in 1926.
Characteristics of the port
The port is located in the heart of the district of the Condamine, and nearby all shopping and leisure facilities.
Informations
Sea chart : n° 6881 Service Hydrographique de la Marine (SHOM)
Situation
Clocher de la visitation lat. 43° 43' 52' NORTH long. 7° 25' 35' EAST
Office
Pilot Station : under the green harbour light -
Port authority
7 avenue JF.KENNEDY


Société d'exploitation des Ports de Monaco :
Harbour organisation
The organisation of the harbour includes three sections :
- Administration : reception, account, telephone, secretariat .
- Pilots : pilotage, moorings.
- Maintenance of the harbour and control of marine pollution.
Covering 16 hectares, there is anchorage for up to 550 vessels including some of large tonnage. The depth of water (7 meters along the quays and 9 meters along the pier in front of the swimming pool) allows berthing of vessels up to 135 meters in length. The port is located in the heart of the district of the Condamine, and nearby all shopping and leisure facilities.
your arrival, reception and pilotage
When approaching the port of Hercule, please call the authorities on VHF Channel 12, giving the name of your ship, her length and beam and the required duration of your stay. This will allow us to meet your requests. A Welcome: Quay at the base of the green, starboard, harbour light is available to boats of less than 15 meters length.
Pilot launches, to be found in the harbour, will show you to your berth and will hand you on Admittance Form. Pilots are available if required and are compulsory for all vessels more than 30 meters in length. This is applicable also to those vessels who have left the Port for more than one week. The pilot Office is open during the following hours :

1st May to 13 th September from 08.00 AM to 11.00 PM
1st October to 30 th April from 08.00 AM to 08.00 PM
Due to its configuration and depth, the Port d'Hercule does not have fixed moorings. To hold the bow of your vessel, it will be necessary to caste at least one anchor. Should you enter the Port during the night when the pilot station is closed, please berth along-side the Welcome Quay, provided the weather is suitable and your vessel is less than 15 meters in length. If there are some vacant moorings please berth preferably at the Chicane Quay or at the Quaides Etatss berth suitable for your vessel will be assigned the next morning. It is not possible to reserve a berth in advance, however if you have a large vessel and wish to berth in Port d'Hercule please contact 24 hours in advance the Pilot Station on VHF Channel 12.
Administrative procedure
Port authority
Within 24 hours of berthing the ship's captain or owner must report to the direction des Ports producing the Admittance Form, duly completed together with ship's papers and pay the necessary harbour fees. A receipt will be given and this should be retained as it is liable to be produced on demand. The Direction des Ports is closed on Saturdays, Sundays and public holidays. You are requested to report to the Pilot Station on those days.
Police
Upon arrival you will be handed a " fiche de police" by an officer of the Maritime Police. Kindly return it legibly completed to :
14, quai Antoine 1er
MC 98000 MONACO

Customs
Should you have anything to declare or require further information, the French Customs can be found at the following address :
Douanes Françaises
6, quai Antoine 1er
MC 98000 MONACO




WHILST IN MONACO
Security
In case of accidents or need of assistance please immediately alert :
Police maritime:
DIRECTION DES PORTS:
In case of fire at any time of the day or night, please contact :
Sapeurs pompiers: 18
Police maritime:
DIRECTION DES PORTS:
Pollution
Pollution : it is strictly forbidden for any ship to throw overboard into the sea or into the Port following : any hydrocarbon ,pure or mixed, any waste, floating or not, any materiel likely to endanger marine life or flora or that could be harmful for human health. In the event of pollution please immediately alert:
Police maritime:
DIRECTION DES PORTS:
Mail - telephone
A mail service is available at the Port Authority offices. If you wish, your may have correspondance addressed to :
DIRECTION DES PORTS DE MONACO
BP N° 468
MC 98012 MONACO CEDEX
Some berths are equipped with telephone plugs. For any stay over 48 hours, a touch-tone telephone can be made available. Applications can be made every day prior to 18.00 hrs : at the Port Authority offices, on week-days at the Pilots Office on Saturdays, Sundays and public holidays. Cords and sets can be bought form the same offices. Three public phone booths for use with coins or cards are also available.
Television
Some berths are connected to the TV cable network of the Principality which broadcast 30 programs in French, in English and in Italian. Télédistribution :
Electricity
Distribution boxes provide electricity to every berth. You may connect your ship's electrical equipment to the following power :
- 6 kw three phase 220 volts (231 berths)
- 9 Kw single phase 220 volts (54 berths)
- 18 Kw three phase 220/380 volts (45 berths)
Plugs can be bought from shipchandlers in the Principality The cost of electricity is included in the berthing fees. Should the electrical equipment of your ship require one of the following power types :
- 36 KW three phase 220/380 volts (15 berths)
- 60 Kw three phase 220/380 volts (12 berths)
- 150 Kw three phase 220/380 volts (7 berths)
It will be necessary to apply for a contact to :
Société Monégasque de l'Electricité et du Gaz
Avenue de Fontvieille
MC 98000 MONACO-
A separate invoice will be mailed to you. For all repairs, day and night, call :
Fresh water
Drinking water is provided around the Port by : 265 posts supplying 1 to 2 cubic meter per hour. For these posts, the cost of water is included in the berthing fees. 7 posts supplying 10 cubic meters per hour, for these posts please contact :
SOCIETE MONEGASQUE DES EAUX
29, avenue Princesse Grace

For night repairs :
Restrooms
The Port of Monaco is equipped with 5 restrooms, 3 of which also have showers. The facilities are available: from the 1st May to 30 th September from 08.00 hrs AM until 10.00 hrs PM from 1st October to 30 th April from 08.30 hrs until 12.00 hrs and 14.30 hrs to 18.30 hrs.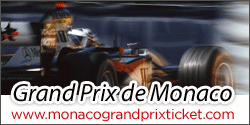 Sign up to our newsletter
---
Páginas relacionadas :